I feel terrible, because a very kind reader, my friend Paul, sent me one of these notebooks a few months back with a couple of ink samples and some pencils, and I'm only now getting a chance to review them. The notebook immediately piqued my interest, because I've never seen one like it before.
Hitlist Notebooks are made in Canada, and are marketed as a more fountain-pen friendly alternative to other pocket-sized notebooks such as Field Notes, Word, etc. They are only 32 pages, as opposed to the standard pocket-notebook 48, but given that you can easily use both sides of the page while writing with a fountain pen this is not as much of an issue as I initially thought it might be. To put this notebook through its paces, I decided to use it for archiving ink and writing samples, and took it with me to the D.C. Pen Show to play around with.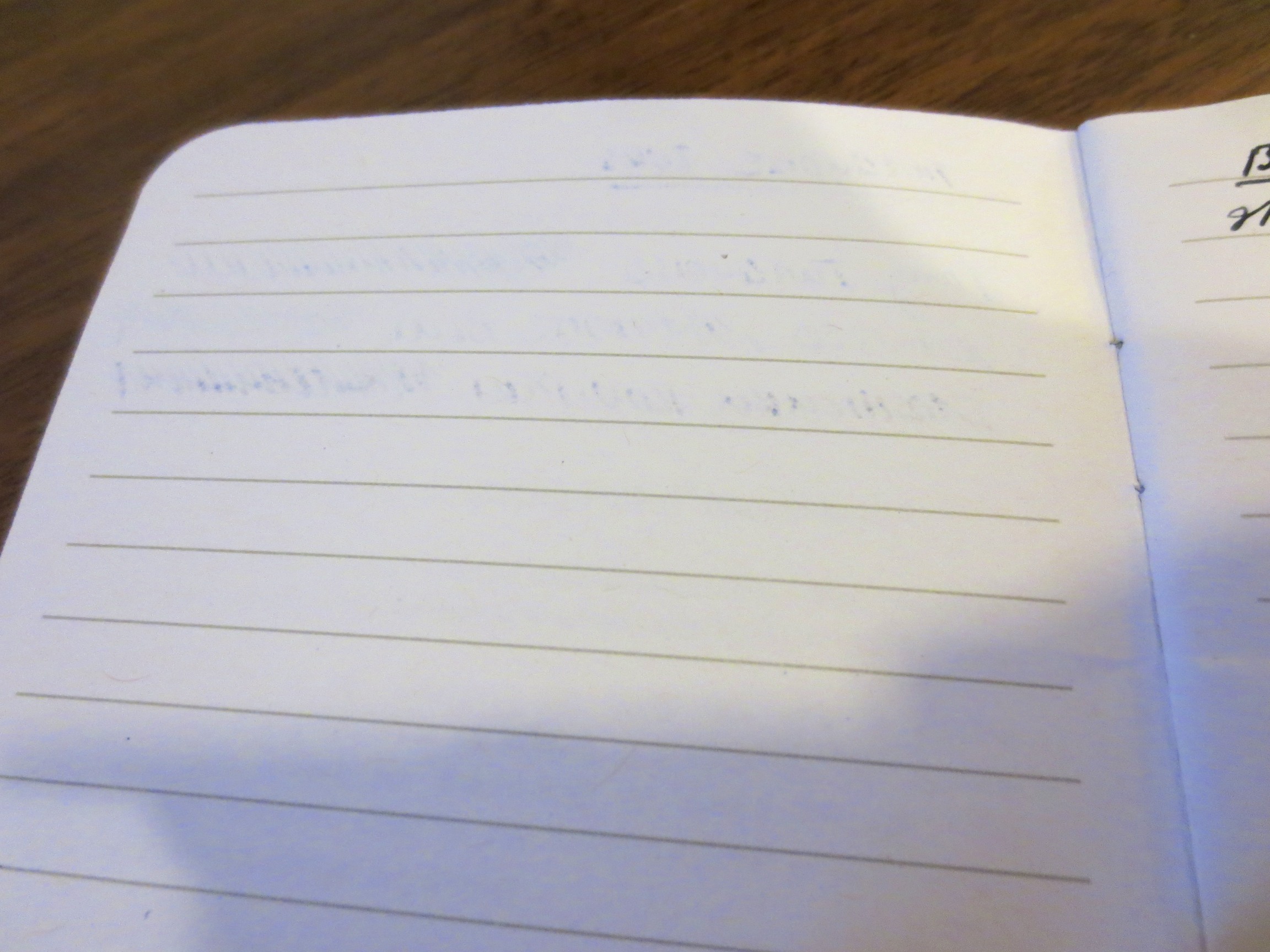 The first writing sample in the gallery above contains a few inks I had on hand: Lamy Turquoise (also from Paul), Kaweco Paradise blue, and Iroshizuku Kon-Peki. The pens I used for the writing sample were fairly wet writers, but there was minimal to no bleed through. In fact, what you can see on the back side of the page is what I would consider "show through." For a pocket notebook, this is excellent performance with fountain pens, and both sides of the page are usable.
The second writing sample was done at the Nibs.com table at the DC Pen Show. I pretty much tried to abuse this notebook with a series of very broad, wet, even flexy Nakaya nibs customized by John Mottishaw, which was a lot of fun in and of itself. Check out the flip side: again, there is hardly any bleedthrough, even with double broad stubs.
Hitlist notebooks also feature a notch cut out of the top of the cover, which makes a "dock" for clipping your pen to the front. Since I regularly clip my pens to the front of whatever pocket notebook I am carrying, I consider this a neat feature that might make it more difficult for your pen to slide sideways off the cover. I have not carried the Hitlist as a "daily carry" notebook yet, so I can't speak to how it might work in practice. I should also note that the notebook is well constructed, and the cover feels durable enough to stand up to heavy use.
Hitlist notebooks are sold directly from their website (link here). I have not seen them sold at any third-party retailers. The pocket-sized notebooks will cost you $14.99 US for a pack of three, which is slightly more expensive than Field Notes ($9.95). However, the paper is premium and those who want to be able to use a fountain pen under any circumstances likely would be willing to pay slightly more for the upgrade. There is also a larger size, which costs $15.99 for two notebooks that look to be about the size of the Field Notes Arts and Sciences. I have not had the opportunity to try those but I might once I work my way through my current (embarrassing) stash of pocket notebooks.
This is my first experience with Hitlist books; the Hitlist website features some other reviews by PenPaperInkLetter, Notebook Stories, and Tyler Dahl.